New Patients
Back to Living Chiropractic is a casual, friendly place with warm, caring professionals who are ready to welcome you. We look forward to meeting you!
Your First Visit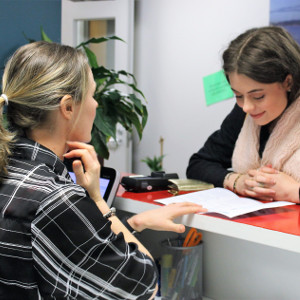 You can download health history forms from our website and bring them in with you completed. When you arrive, you'll watch a short film that explains what you can expect. Then, you'll meet Chiropractor Dr Louise Blair, who will talk through your concerns and goals and do a brain-based spinal exam. If you need X-rays, we'll take them with our on-site facilities.
If required, we may do a computerised test with the Neuroinfiniti® Stress Response Evaluation. This noninvasive, painless tool uses sensors attached to your skin that will demonstrate your body's response to stress.
We'll then be done for the day, and you can return for a follow-up to discuss your results and our best recommendations for you.
Your Second Visit
When you arrive, your chiropractor will have analysed all results from your examination and have an individualised plan for you to reach your goals. If you agree to it, you'll receive your first chiropractic adjustment.
Regular Visits
Subsequent visits are quick and involve another adjustment. Progress exams will be performed periodically. It's your choice how long you'd like to continue seeing us, and we respect whatever decision you make.
Teaching You About Health
We're focused on education and will talk to you at each of your appointments to give you valuable information about health. There are weekly research articles you can read and other resources around the office to help you learn more. Additionally, we hold health classes for our patients throughout the year.
Contact us today to schedule your time with us! If you'd like to find out more, we're pleased to offer complimentary consultations.
Schedule your appointment


New Patient Center at Back to Living Chiropractic | 04 499 7755