Meet the Team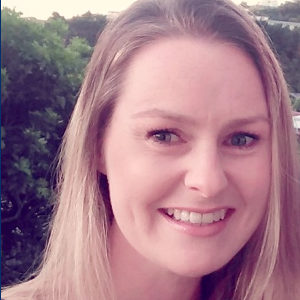 Kerryn Burney – Our Front Desk Chiropractic Assistant
15 years ago I was a Back to Living (BTL) Chiropractic patient with constant headaches and lower back pain from my teens. My chiropractor thought I was so awesome they offered me job (crazy person!!), I said "no", lol, but eventually changed my mind – this was one of the best decisions of my life. Why you might ask?? It has introduced me to a profession I now love, working for two other chiropractic offices in Hawkes Bay and London before returning to BTL. Oh, and my headaches and back pain don't bother me anymore!!
Show More
In my opinion chiropractic care has helped me lead a healthy active lifestyle – from half marathons in my 20's, to completing a full walking marathon (cancer research fundraiser) in London, paddle boarding and getting into Crossfit, and lifting heavy things now in my 30's – of course all balanced with good food and a glass of pinot noir.
I'm normally the one on front desk greeting you by name with a smile (possibly laughing with someone) and ready to have an interesting chat with you. I want all our visitors to feel at home and to understand the benefits of chiropractic care.
Talk to me about becoming a new patient, booking appointments, our Metagenics supplement range, Braintap (our light and sound therapy), our available courses and health talks, my homemade candles (fragrancing the office), chiropractic, or just what I got up to on the weekend.
See you soon.
Tania Maher – Our Team Leader Front Desk Chiropractic Assistant

I have worked in various positions since I was 17 years old, but nothing compares to my experiences at Back to Living Chiropractic. The atmosphere, culture and care that is shown within this practice is so hard to come by in a professional capacity. I have learnt so much about about my body function and mind so that I have more energy, fun and the will to strive to do better in everything I do.
I myself have been under chiropractic care for about 4/5 years now. I wish I had listened to a good friend sooner about the benefits of chiropractic care for my health and well being. My journey began with a snow ball effect of injuries starting in my cervical spine (neck). Two neck injuries rolled into a shoulder injury, which physio alone was not helping. I had enough of pain, discomfort of daily living and made the choice to see a chiropractor. Once I had experienced how effective and safe chiropractic care was I have never looked back…….just kicked myself for not going sooner lol. Since meeting, working for Louise nearly 2 year's ago and being adjusted by her, I don't suffer headaches on a daily basis to which I had since I was 12 years old. Several months before I started here at BTL I also suffered a lumbar spine injury ( lower back) and sciatica, so chiropractic care is life for me to manage pain and discomfort. It is simply better health and body function to carry on with daily life, to live life to the fullest.
I am honored to be working with a passionate, caring skilled team at BTL who's focus is to improve peoples lives with better spinal function, health and well being for the mind and body. I also enjoy being apart of our new patients testings, talking to our patients, listening to their stories that brought them to us or their journeys to better health and well being. I like the background office work I do also. I work full time so when Kerryn is in the office you will usually see me at the back desk doing the office admin stuff. Sometimes I'll be in with new patients, or doing progress exams with patients. Once Kerryn has gone for the day you will see me greeting you at front desk with a smile and making you feel welcome.
See you Soon
Tania



Meet the Team | 04 499 7755